Chris Barela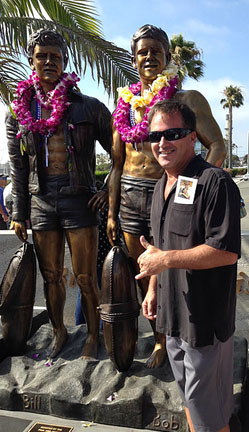 Chris Barela is a world-renown bronze sculptor who is best known for ability to create life like sculptures of marine life. All of his sculptures are original works of art, some are customized to meet client's needs and some are designed to be sold as limited edition in galleries worldwide.
Our top priority is making sure that every sculpture that leaves the Barela Studio & the foundry is a masterpiece. Our collectors are astounded by the quality and craftsmanship that goes into each piece. We hope you find the sculpture you're looking for.
Chris Barela's love for the water has been lifelong. Growing up at the beach and becoming a pro surfer allowed Chris to travel the world. At the peak of Chris's surfing career he had made it into the finals at the Banzai Pipeline Masters.
Having traveled the world's oceans Chris retired from professional surfing however, he still wanted to stay connected, that connection inspired him to create his first line of bronze sculptures, an amazingly life like collection of big game fish , Barela created his own brilliant patina formulas that are now widely used internationally .
Barela's passion for nature is the driving force behind his art …Chris's talents are not limited to bronze sculptures, he excels at photography and filmmaking and recently was awarded first place in the Hawaii Ocean Film Festival for his short film on octopus. It is without question that Barela has become one of the world's best sculptors/patina artist, which grants him the honor of being one of the most influential artist of today.

View New Releases, Sculpture, Special Order
---
New Releases
Click on an image to see pricing, size and description of art
---
Sculpture
Click on an image to see pricing, size and description of art
---
Special Order
Click on an image to see pricing, size and description of art